On our way to Lachen when Pimpi (our driver for North Sikkim tour, Pimpa Bhutia) told us that we need to start our journey next day at 3 in the morning, we jokingly said shouldn't we start at 1 o'clock. But he was serious, and we got our first shock in the trip on the first day itself. The excitement to visit one of the highest lakes in the world, was overriding our laziness and negotiating with Pimpi didn't even come to our mind.
The clock showed 3:20 in the middle of the night, and we were ready to board our Tata Sumo for the most exciting part of the most memorable trip of our lives. It was dark and starting from Lachen we soon realized that there was no road at all. It was making sense now that why we were expected to take so much time to reach a place looking not so far in the map. As that thought had just crossed our minds, the experience of traveling alone to an unknown place not having a hint of civilization was giving us jitters. On the top of it, climbing new heights on broken roads having limited visibility of old and inadequate headlights was frightening in itself.
Here we were at our first stop, before a hint of the sunlight. Having breakfast at this time (it was 0530 IST) seemed awkward to us at first, but the chilling weather had started taking toll on us and we needed something hot. Boiled bread and hot tea (made on stove) was our breakfast and much needed dose for journey ahead.
It took more than 2 hours to reach Thangu (34 km from Lachen), but it feels much more than that. And since ours was the first vehicle (out of 10-12 cabs going that day), the feeling was something else. As it was the time of dawn, outside the house of every local some naturally scented dried herbs were burning. Its heavenly aroma was calming and refreshing.
When we were leaving Thangu, other cabs started reaching for that much needed break. That was the first instance we realized we were not alone in that amazing journey. We were happy that we were first one to reach and experience the calmness of this heavenly place. Yet a feeling of confidence and relief arose when we saw other vehicles coming.
As we left from there, the Cantonment area started. Photography was not allowed here, so I am describing our experience just through words. Finding this much of habitation at this height was quite surprising for us. But this is army life, acclimatized for every place in every situation. As we were crossing the Cantonment, we supposed it was the time for their morning jog. So a small group of Jawans (soldiers) could be seen jogging.
After that we reached the Army check post, where we were supposed to be given permission for proceeding to Gurudongmar. A register was kept to note down the details of every vehicle and every passenger in it, which were to be checked and confirmed on our way back. You need an Indian passport to go beyond this point. As Pimpi was busy getting all that done, we were enjoying the view around. While we were waiting, a very smart young lady officer arrived for carrying out routine checks. Looking at the command, she had over there, we were kind of feeling proud of our army. As this was also the part of the Cantonment, no photographs here too. It took almost 15-20 minutes at the post there. Since ours was the first vehicle to cross that army check post, the priest of the Gurudongmar Gurudwara cum temple took lift from us. Later, we got to know that it was his daily affair, to take lift from the first vehicle going to the lake and back in the last vehicle returning from there.
As we proceeded further, it started becoming more deserted. The area and the increasing chilling effect was making it evident that we have gained much height by now. Although we were trying to look for sun for warmth, the clouds started to show up. Weather was changing its course and we spotted some yaks on the way, so we stopped for a while.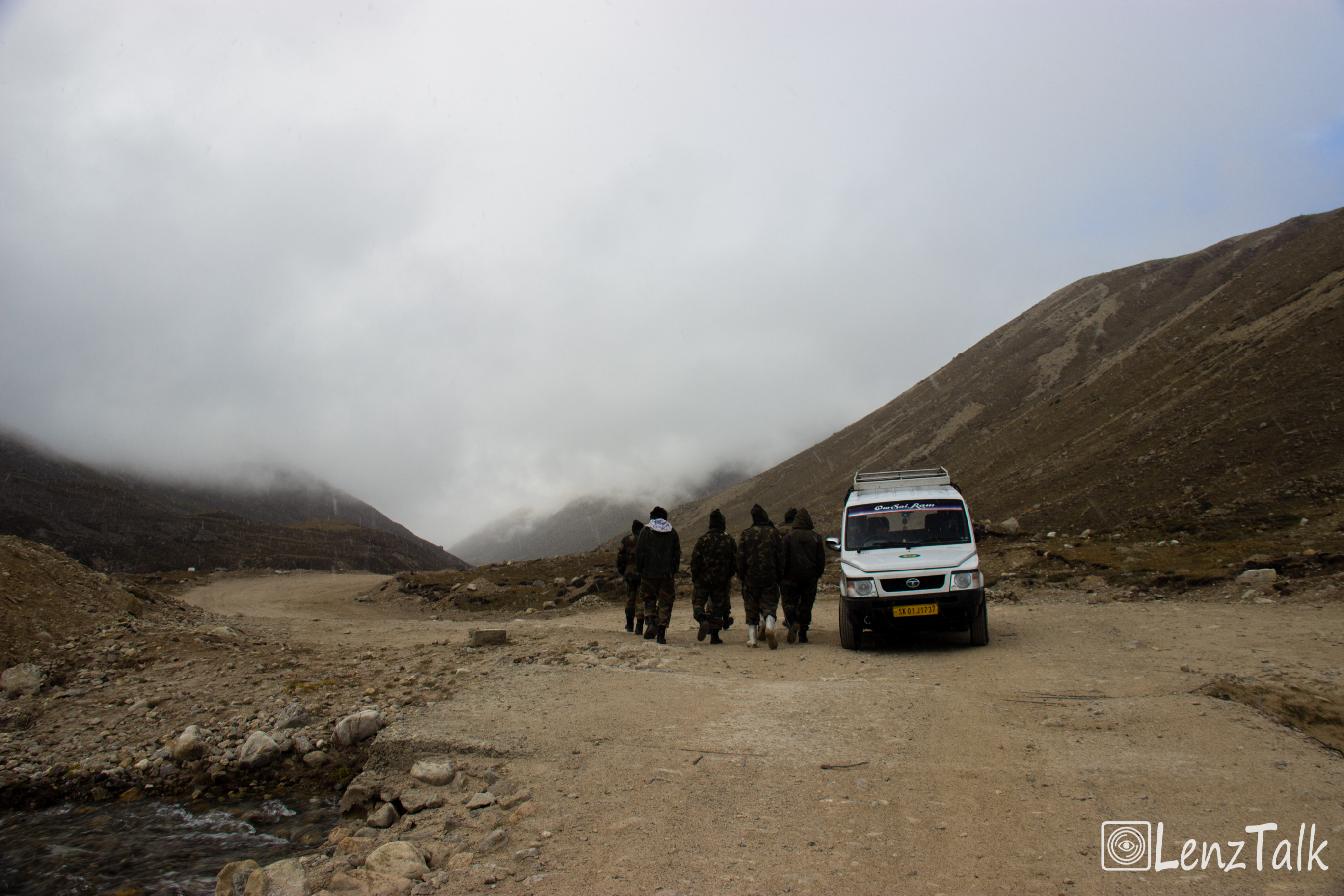 Also, just then a group of soldiers crossed us, having their morning walk. We were wondering, what an awesome place for a morning walk.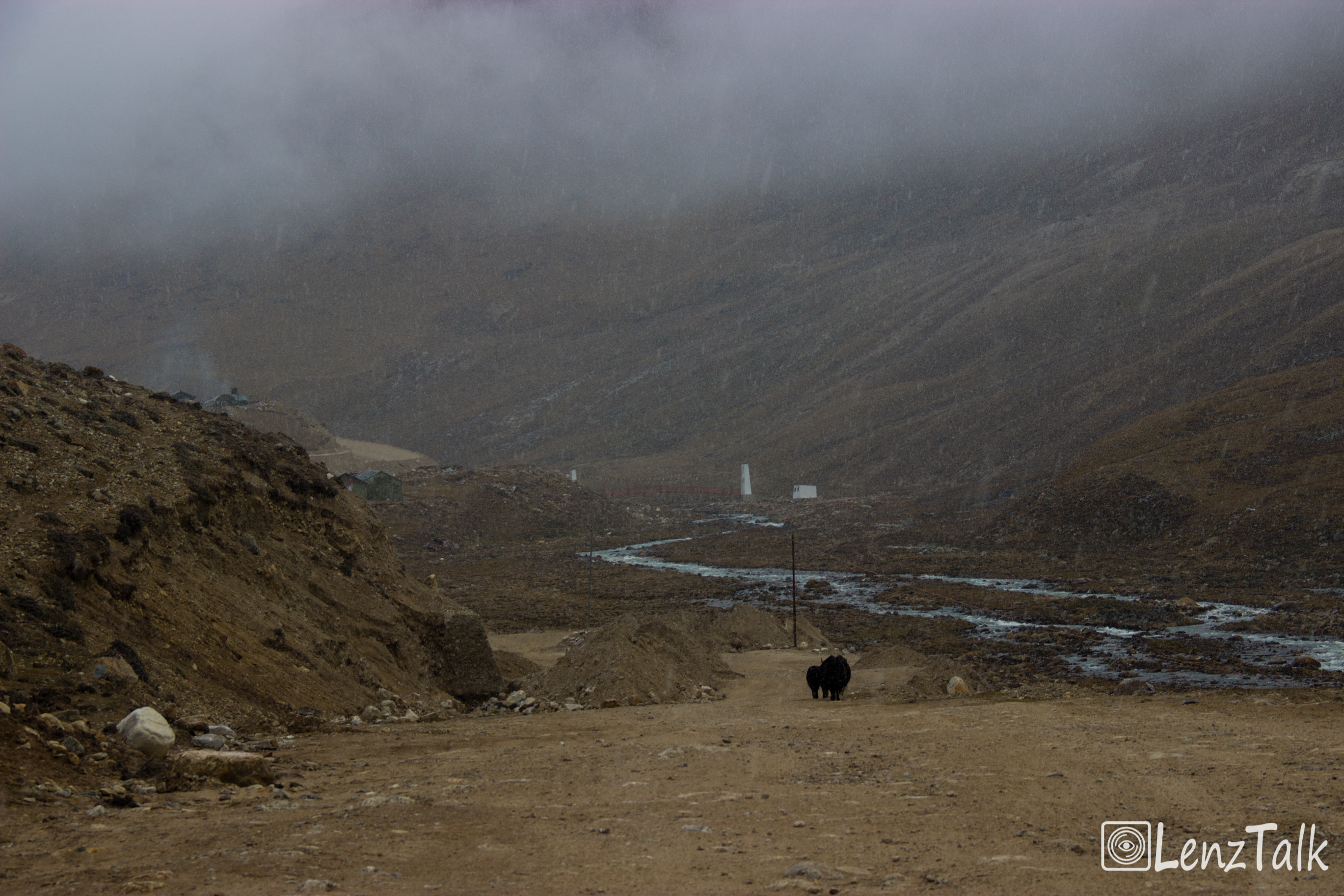 The weather was getting more heavy and light showers started pouring. The showers were so light, that it seemed like falling of dew which got converted to snow in between. So it was officially our first experience of a snowfall.
As we moved forward, the weather cleared up gradually. The Sun was out shining bright now, but we were still trying to find some warmth under it. The roads had started widening and we were out in a valley. We had started getting a feeling that we are nearing our destination. Soon we arrived. It was 0740 IST by my watch. What a view!
It was like a dream. It's undoubtedly the most amazing view I had seen in my life. The entire landscape seemed to be meant just for us, as we were the first ones. But it was freezing out there, definitely must be sub-zero temperature. The low temperature combined with low oxygen (due to height), was soon getting in our heads. As we reached, I needed to visit the loo which was some stairs down towards one side of the temple. While coming back I climbed the stairs hastily, which was a big mistake. It took me 5 minutes to regain my breath. So be sure to take it easy, as you don't get much time to acclimatize in this trip.
All these photographs were taken with shaking hands. Wish I had carried my tripod, to be able to capture the beauty properly.
If you see closely, there is a narrow path for doing parikrama (circumambulation) of this holy lake. And there we saw few Buddhist monks who came for that purpose. We were told that, it would take nearly 2 hours to complete a parikrama. And for doing that, there is an acclimatization schedule that you need to follow for few days.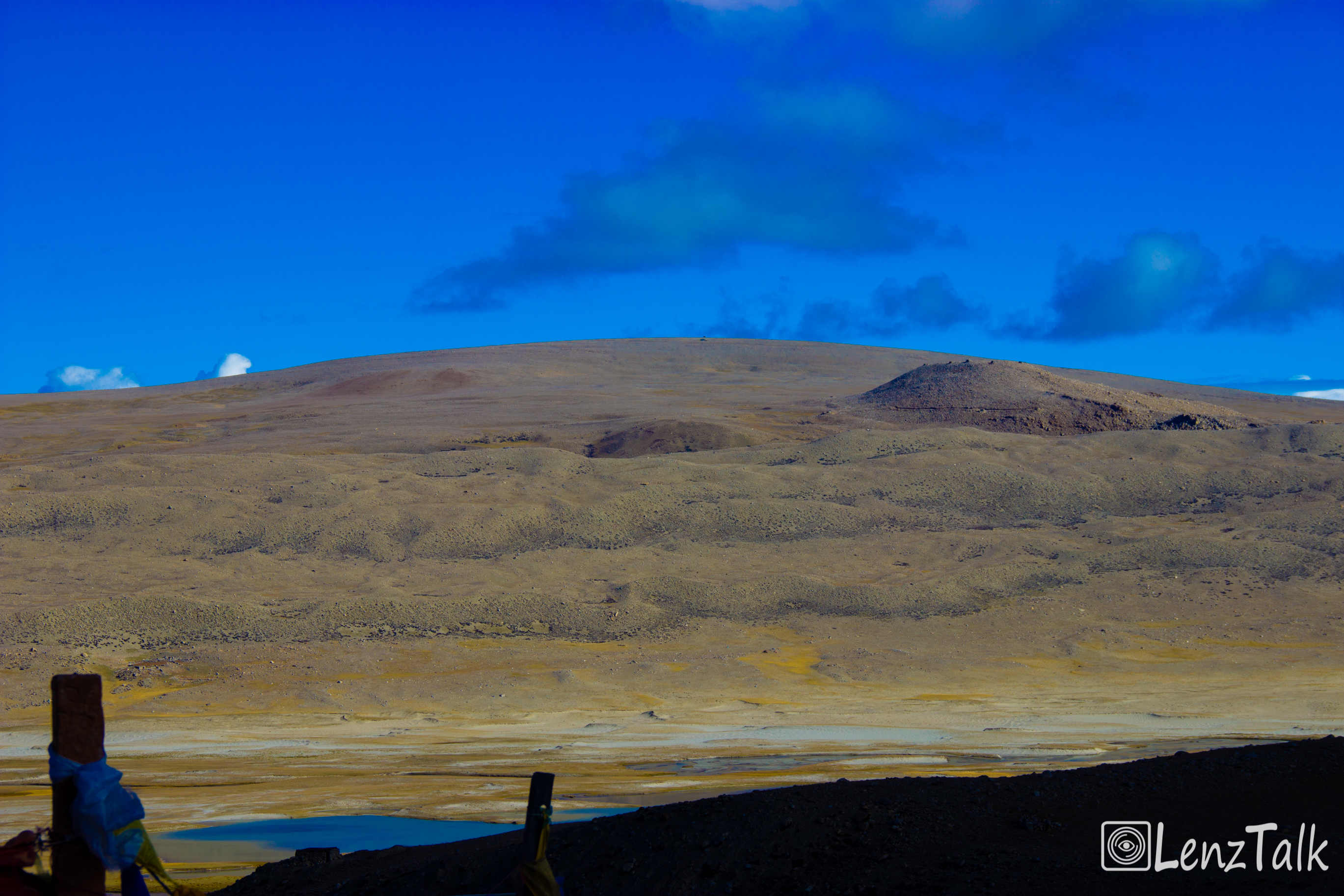 View of the valley on the other side of the road to the holy lake.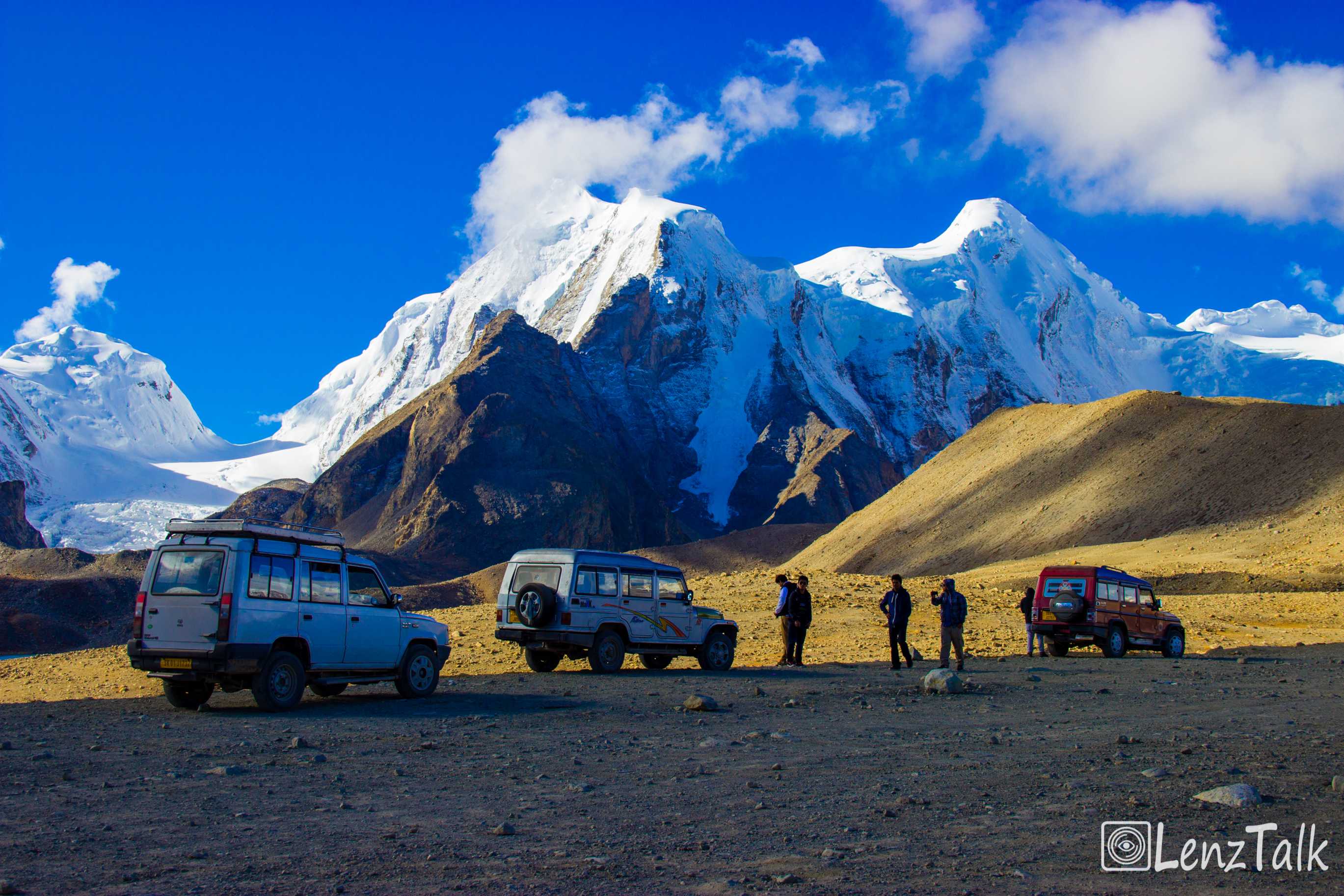 After some time, others had also started arriving.
A small room for Gurudwara cum temple, as this is a sacred place for Sikhs as well as Buddhists.
This was the view of the lakeside just below us. Needed to get down 20-25 stairs, but we couldn't find that strength to go down and touch the holy water.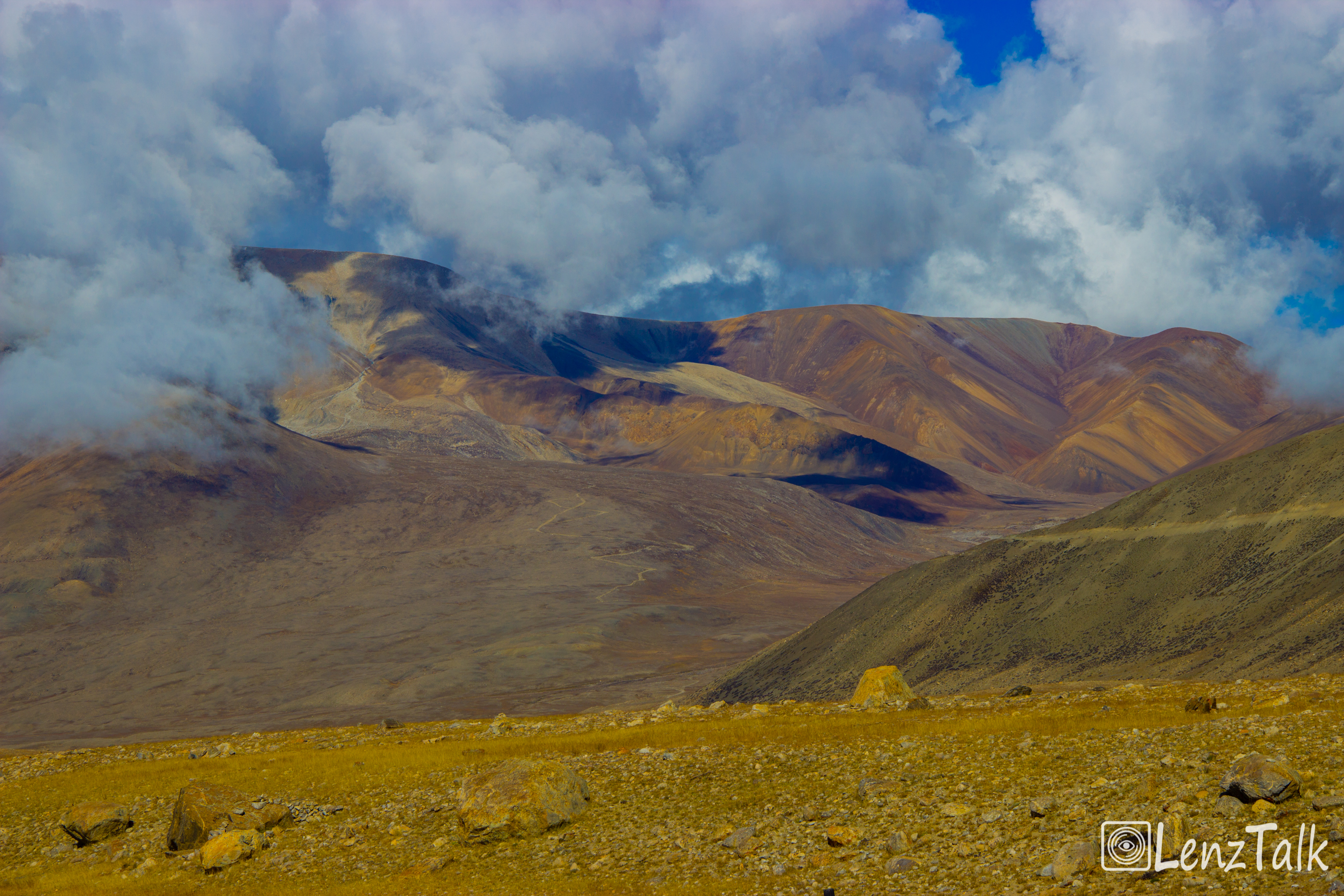 We spent a total of 25 minutes there, but it seems much more than that. We wanted to stay there forever, but just asked our driver to leave as we were unable to stand there anymore.
On the way back we again stopped at the army check-post, and the army dispensary besides it was busy now. Jawans were serving tea/coffee, and providing first aid to the people (especially children) who were unable to proceed further due to mountain sickness (and low oxygen). It's not advisable to travel to this place with children below 12 and elders above 60. We returned Lachen by 12 noon, as after some rest and lunch we were to proceed for our journey forward. We were scheduled to reach Lachung by the evening.