It was the 3rd day of our 4-day North Sikkim trip and we were out to visit the Valley of Flowers, Yumthang Valley. Today there was no hurry in starting the trip, as was on the previous day (Gurudongmar Lake trip). So we had our breakfast in our hotel at Lachung and started the journey at about 8:15 am. Our package was up to Yumthang valley only, but by paying 2k more to the driver you can arrange it till Zero point. Zero point is named so because it's the place where the road ends. 
The journey started with beautifully curved roads, meant for gaining the height quickly. The first look reminded me of the silk route pictures I have seen on the internet.
The roads were good on this route; at least they existed all through the way. Comparing with the treacherous roads the day before (Gurudongmar Lake trip), it felt like we were driving on Lutyens Delhi roads.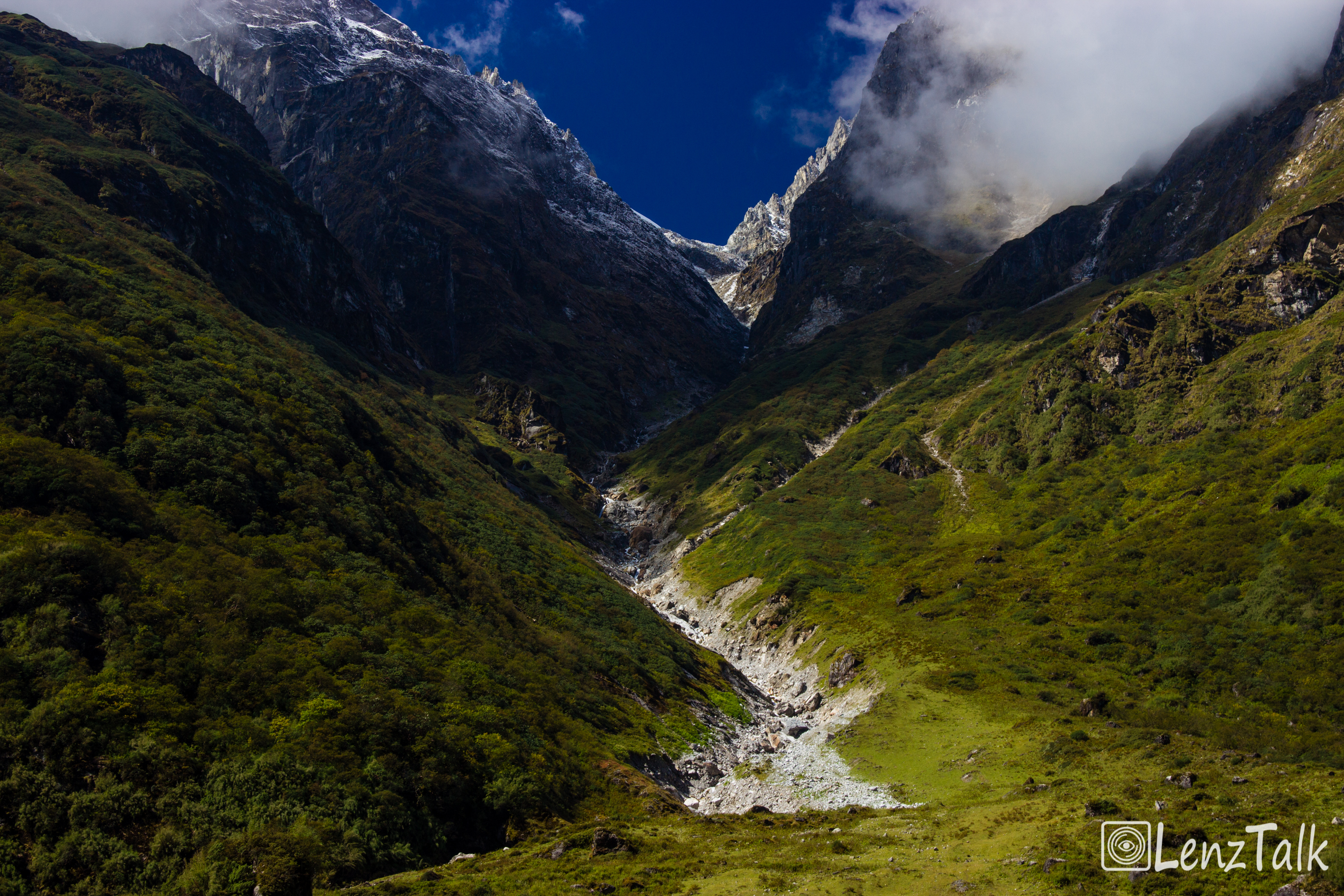 Today the mountains and views were much greener (though the beauty of valleys and enchanting landscapes on way to the Gurudongmar Lake are unmatched). We should have stopped more often and taken more pictures of the amazing landscapes.
Our first view of the Yumthang Valley from some height. We would enjoy it later in detail on our way back.
On the way, we also encountered a Nullah (small stream) on the road and we drove right through it. That was another beautiful view of water making its way, ruining the man made infrastructure (roads). But no photos of that, as some army training routine was going on out there. They were climbing on a route made of stones, which water had brought with it downhill. What was looking as a beautiful landscape to us, might have been a nightmare for some; as it was the result of a cloudburst and landslides, some time back.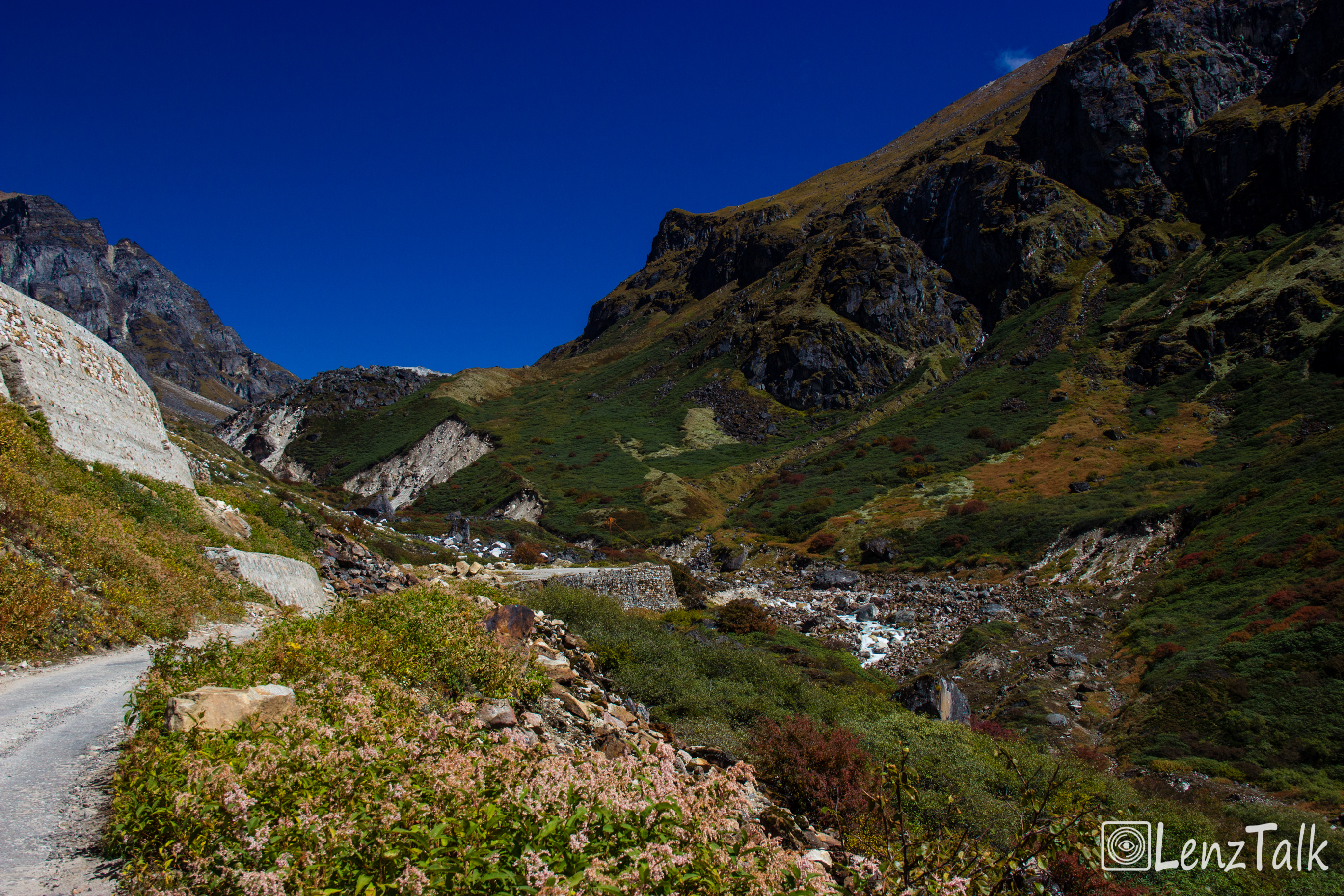 Apart from green, there were more shades on offer as we gained height.
Small waterfalls on distant mountains is a common sight in north Sikkim.
After tracing Teesta river in our entire North Sikkim trip, this (in the image above) can be considered the very starting point where the river begins taking its shape. Although its origin is supposed to be the Gurudongmar Lake, which is towards the other side of the mountain. But this is the closest we could go, which seems to be the beginning of the monster it becomes.
Reached at Zero point at 1050 IST. It was a beautiful valley, but as chilling as Gurudongmar. We came to know later that it was at the same height and Gurudongmar lake was just across the mountain on our left. We were not prepared for this, and I was only with a leather jacket on a sweatshirt. It just hit hard in our heads as soon as we reached. Must have been sub-zero temperature with low oxygen and chilling wind flowing across the valley.
A few stalls were there which were our lifeline for staying warm at the moment. They were offering tea, maggi, eggs, popcorn, and most importantly rum. I had 2 shots of Old Monk with warm water, which helped me keep standing there. We also learnt and experienced for the first time ever that munching popcorns can keep you warm. My wife purchased handmade woolen cap from there which was very helpful.
Some snow on mountains across the valley. We were so hit by cool breeze and low oxygen that we didn't think of going that far (maybe 300 mtrs away).
A few colors in otherwise barren land.
After much effort we couldn't even stay there for an hour, and left by 1145 IST. Probably, we could have enjoyed it more if we had been more prepared for the low temperature there.
On the way back our driver offered to take us to a secluded hot water spring, for which we need to take a detour from the original route. For 2k extra, we could spend some time on a private enclosure of natural hot water pool. According to locals, it has medicinal healing properties.
We reached there by 1220 IST, and really we were the only ones at that place. Although alone in a private chamber, we couldn't find courage to have a holy dip in that hot water. Our bodies were still recovering from the affect of zero point, and the hot water pool helped a lot.
We stayed there for about 20 minutes and left by 1240 IST. As we were about to leave, another vehicle arrived there. Perhaps they also preferred to enjoy the hot water spring in private here, instead of the very famous and the crowded one at the Yumthang valley.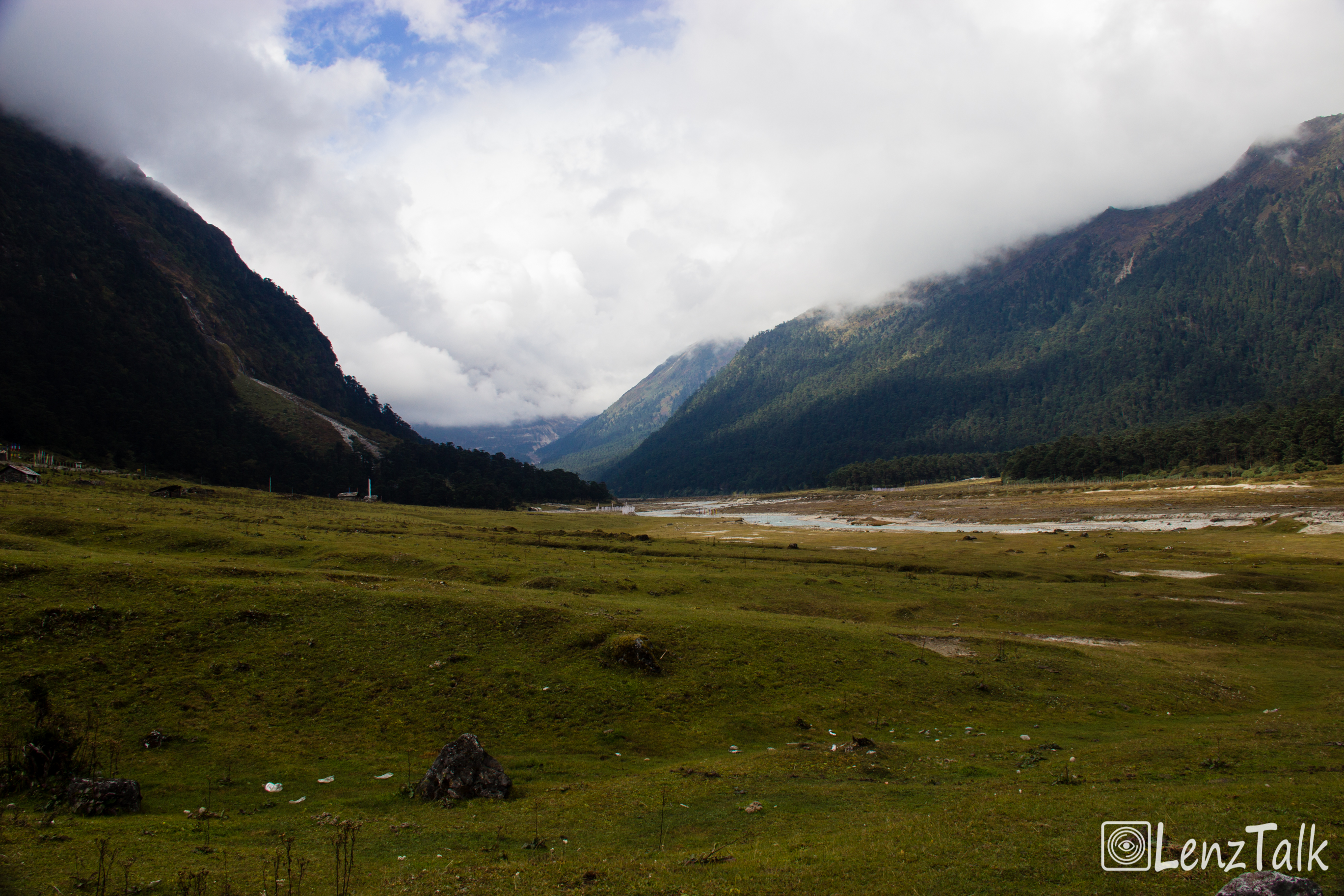 We reached Yumthang valley by 2 o'clock and it already was almost empty. Since we took that detour, ours was one of the last vehicles reaching the valley. It was a blessing in disguise, as the whole valley was only for us. And we could enjoy the scenic beauty and capture that in our camera. In spite of missing colors in the famous Valley of Flowers, it was no less than a view for the perfect capture.
There also exists a hot water spring here, which is very famous among the locals for its medicinal purposes. People come and stay here, in a couple of rooms available. So that they can have a bath in the holy water everyday, until it heals their bodies or their soul.
Left Yumthang by 3 in the afternoon, which was quite late and we were the last ones. It started to drizzle, so we couldn't halt much for quick shopping at the few local shops there.